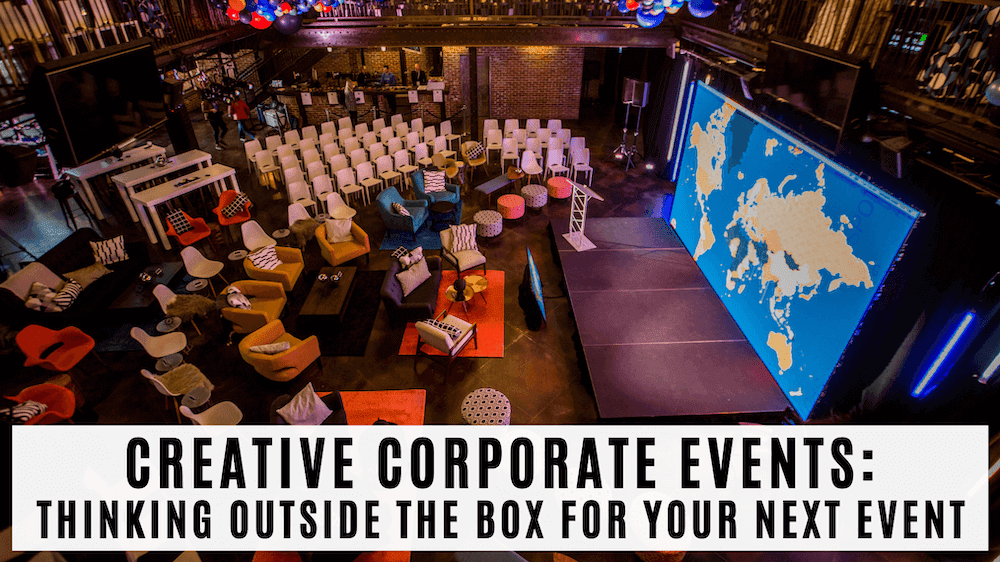 Tell your employees or coworkers that there's a corporate event coming up and you're bound to get some eye rolls. Why? Because corporate parties tend to be boring and mundane.
They don't have to be.
With the right venue, the right food, and the right entertainment, your next event can make history. It might even leave your attendees wanting more.
Ready to plan an amazing event unlike anything you've ever been to before?
It's time to get creative and think outside the box for your next corporate event!
Choose a Dynamic Venue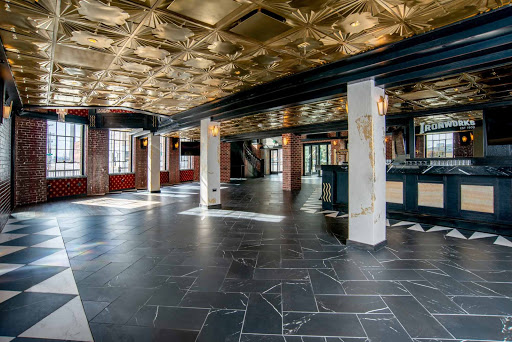 Photo: Elevate Photography
A memorable event starts with a great venue. An amazing space alone can get your employees excited to attend.
Forget the standard beige ballroom in a three-star chain hotel. Your attendees don't want banquet tables piled with rock hard rolls and undercooked chicken.
The next time you plan a corporate event, pass on the boring ballroom in favor of a venue that speaks for itself.
Something historic with style and local character.
Your company culture is vibrant and dynamic, so your event space should be too.
The first step in planning an out-of-the-box event is to reserve a stunning venue. Regardless of the type of event you're hosting, your guests will be thrilled to attend, if only to check the place out!
Let Mile High Station host your next corporate party!
Find a Flexible Space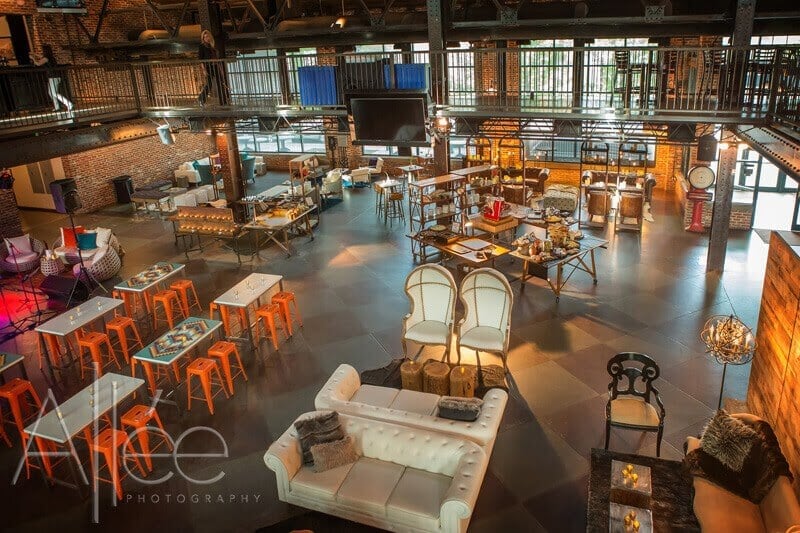 Photo: Allée Photography
The more creative you want to get, the more important it is to find a flexible venue.
Flexible in:
space and capacity
how it can be decorated
how tables can be positioned
seating arrangements
The more versatile the venue, the better.
If you book a venue that has multiple spaces, you can set up different areas throughout.
Designate one area for cocktails and/or passed hors d'oeuvres. Create a separate space for a buffet spread, food stations, or a sit-down meal.
You can even set up a lounge area outside or in another part of the building where guests can retreat when they need a quiet place to talk business.
The most stylish venues are raw spaces — spaces that aren't overwhelmed with décor. An industrial space, such as an old factory or warehouse, is the epitome of how a raw space should look.
In an industrial space, you'll find architectural elements that add charm and character. You'll also find minimal décor, which will allow you to transform the space as you wish. Whether you're hosting a casual holiday party or a formal gala, these types of spaces can accommodate any event.
Decide on a Theme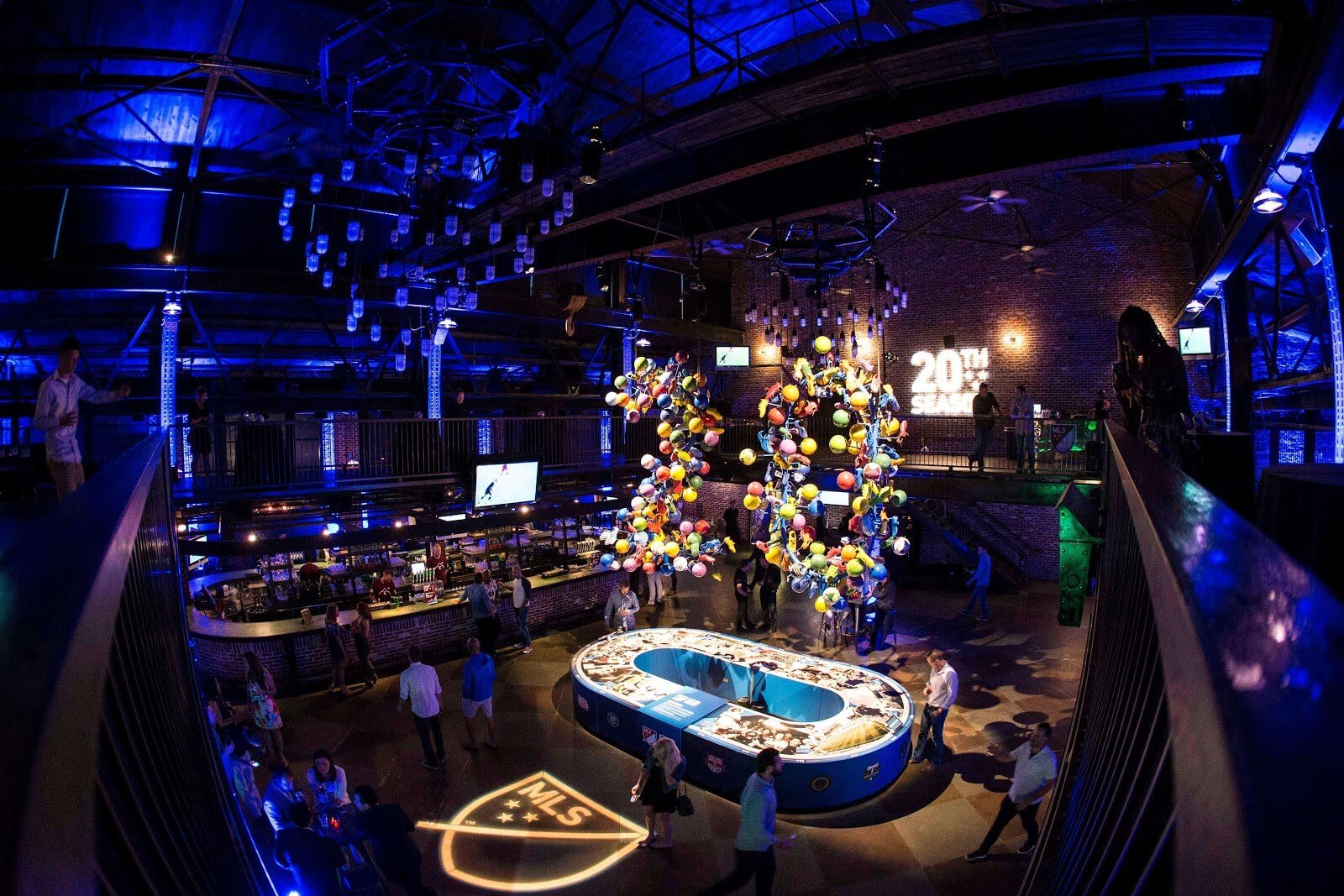 Once you've found your venue, it's time to choose an event theme. Your theme can be anything you want it to be.
With that said, we've all been to '70s and '80s theme parties. We've dutifully shown up to winter wonderland parties and casino nights; we've all attended events with Mardi Gras, tropical, and Great Gatsby themes.
There's nothing wrong with any of these — but they're not exactly new.
This year, it's time to come up with a new theme that hasn't been done to death.
Creative Corporate Event Ideas
Looking for a perfect theme for your event? Here are some ideas to consider:
Beer Garden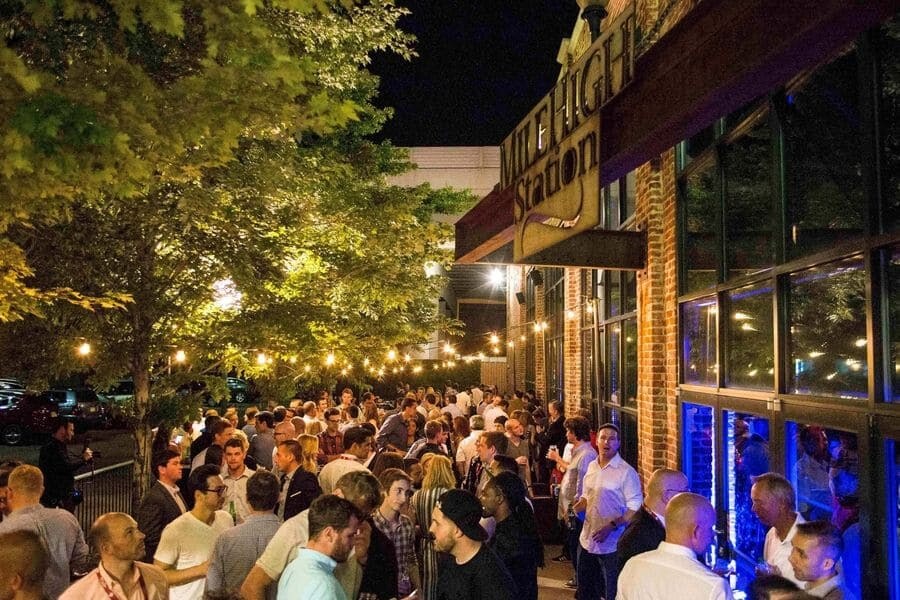 If your corporate party is a celebratory event or a product launch, you might want to turn your venue into an indoor beer garden.
Craft brews on tap. Edison bulbs strung across the ceiling. Giant Jenga games. Creating a makeshift beer garden is easy, and your whole team will love it.
Music Festival
Want to create an ambiance that your employees may have never experienced before? Go with a music festival theme!
Provide wristbands upon entry. Pass out glow sticks and flower crowns. Decorate the ceiling with string lights and set up boho-chic seating areas with comfy pillows and blankets.
Of course, don't forget a photo booth for selfies. Your employees are most certainly going to want to share this one online! You can even create your own hashtag on social media that employees can tweet out with their pics to promote the event.
Contact us today to start planning your next corporate event!
Carnival
Prefer to keep your party on the fun, lighthearted side?
A carnival theme could really lighten up the mood!
How much fun would it be to fill your venue with carnival games like balloon darts, milk bottle tosses, and ring tosses? Think of how much fun your guests will have if you turn your venue into an adult arcade with air hockey tables, ping pong tables, or even laser tag.
Not only is this a fun theme, but it has a nostalgic quality that will make everyone feel like kids again!
Provide Unique Entertainment
Once you know your theme, it's time to start thinking about how you're going to entertain your guests. No party is complete without some form of entertainment!
It goes without saying that music is always a favorite — but what kind of music should it be?
You could go with the age-old classic of hiring a DJ. That's always an easy way to get people dancing and having fun.
A disc jockey isn't your only option. There are plenty of other ways to ensure your guests have a memorable time.
Corporate Event Entertainment Ideas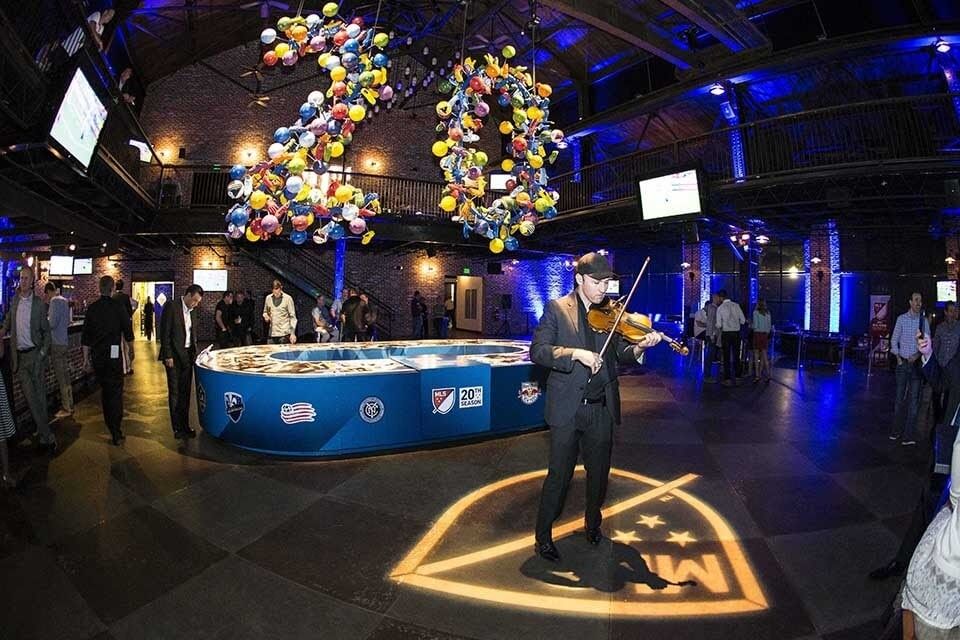 Photo: Designwerk
Depending on the vibe and theme of your party, you might want to hire a string quartet, a cover band, or a solo jazz musician. Music sets the tone for an event, so make sure the entertainers you hire capture the mood you're after.
If you really want to think outside the box, you might want to add some visual entertainment to the mix; performance artists, dancers, light shows. Whatever fits with the theme of your party (and fits within your budget), go for it!
Scale-up from there with activities for entertainment, such as ax-throwing challenges or virtual reality experiences.
Are there any business-related activities you're required to schedule into the night?

Be strategic about how you do this part. No one is going to want to sit down and listen to a keynote speaker after two hours of dancing, so you'd better get that out of the way first!
Make Team Building Fun, Not Boring
Need to throw a few team building activities into your party?
Get creative with those, too.
Scavenger hunts, rock climbing walls, ropes courses … we've seen them all.
If you want your employees to enjoy this portion of your event, you'll have to do better than that.
Give your guests motivation beyond mere participation.
Why not try activities that will inspire them?
For instance, you could have them work as teams on activities or projects that benefit a non-profit.
You could have groups build or brainstorm things that would benefit other groups — like one division of a company creates something for another division.
Get Creative With Your Food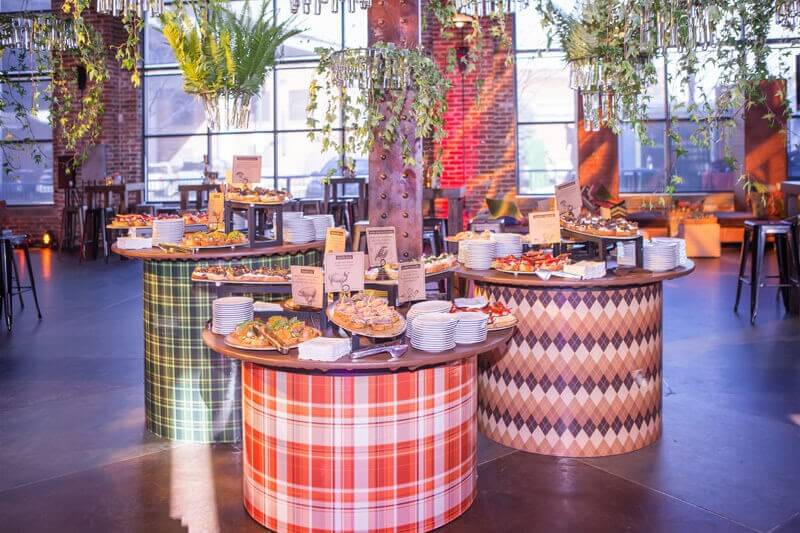 Photo: Catering By Design
If you want people to remember your event and look forward to your next one, you need a great menu. There's just no way around it.
It's not just about what you serve — it's also about how you present it.
Look for a caterer that offers various options. Some caterers have set menus to choose from, while others give you the flexibility to choose from a variety of different items and cuisines.
Present the food in a way that you haven't done before.
Try interactive food stations, unique displays, or even glow in the dark food.
As all good event planners know, your food should be in line with your theme.
Going with the beer garden theme? Set up food tables with sausages and brats, Bavarian pretzels, burgers, and other casual offerings.
Having a music fest theme? You can set up different stations with everything from vegan food and Indian dishes to burgers and fish tacos.
Hosting a carnival-inspired event? Rent some cotton candy machines, ice cream machines, hot dog carts, and churro stands with striped awnings.
Don't Be Afraid to Break Tradition
Thinking outside the box doesn't mean you have to do something that's never been done. It just requires you to do something that hasn't been done to death.
Does the same person cater your corporate party every year? Find a new chef or a new catering company to provide the food!
Thinking about holding your event in the same hotel where your guests are staying?
Be careful. The idea of having to stay in a single building for an entire weekend isn't very appealing (cue the collective groan from your employees).
Multiple Venues for One Event?
Most corporate events are held in a single venue. But that doesn't mean yours has to be.
In fact, holding your event throughout multiple venues can be a better option, especially for conferences or conventions that last more than a day.
Think about the possibilities:
In one venue, you host all of your keynote speakers, product demos, and breakout meetings. You can schedule all of the fun stuff in the second venue at night.
Some large-scale venues have multiple areas in them, so you can shift from work-mode to party-mode just by moving everyone from one area to the next.
Whether you're hosting a fundraiser, an off-site meeting, or a team-building event, it should be memorable. Holding it across several venues or spaces can make your event more dynamic and fun.
Remember, no matter how exciting your event is, your employees are still working. The time they spend there is time that they would otherwise have to themselves.
As the event planner, it's your job to make them want to be there and to anticipate the next one.
Conclusion
Ready to book a corporate event that will impress your guests and keep them talking about it long after the party is over?
It's time to think outside the box:
Find a unique venue, such as a historic site or an industrial space.
Choose a theme that you haven't seen a dozen times before.
Provide live music, a DJ, or another form of entertainment.
Organize fun team building events that your employees will actually enjoy.
Create a menu and present the food in a way that works with your theme.
Break tradition and don't repeat elements or activities you've done in the past.
Corporate event planning can be tough. However, with these tips in mind, your next work party just might turn into the social event of the season!
For more creative corporate event ideas,
follow the Mile High Station blog!